Hello Reader,
It's the first day of seriously below zero temperatures. It's just the beginning of this long ordeal that is the Montreal winter.
Last month we wrapped up the latest In Flow Online Residency. It was a wonderful cohort.
Personally, it's such a push towards completing a small project.
For some of the participants the highlight was the shared work time, for others, a new way to see their art practice.
Here are some lovely words from one of the participants (who did not leave his or her name):
As a watercolor painter, it was rewarding to experience this residency with artists representing different styles and mediums. Luisa translated our differences into a common language that sparked rich, engaging dialogue. I learned so much about my personal motivations and visual vocabulary. I now have the tools to stay motivated and committed to completing future art projects.
I hope to lead another one next year, although I still don't know when because 2022 is shaping up to be quite hectic. You'll be the first to know.
What I did in 2021
In my art practice, 2021 has been such a shift in everything. Mostly because at last I have managed to separate myself from the work (to an extent).
It's no small feat.
We make art and it feels intensely personal, but unlinking our self-worth from the work is a gift to ourselves. All of a sudden the external response to it feels less important and the work itself becomes more honest.
This year I learned to let go of conventional eye-pleasing beauty and embraced the chaos, I pounded the brushes, I smeared the conté pencil. I painted on printer paper and learned to love the machine (my iPad) for preliminary work.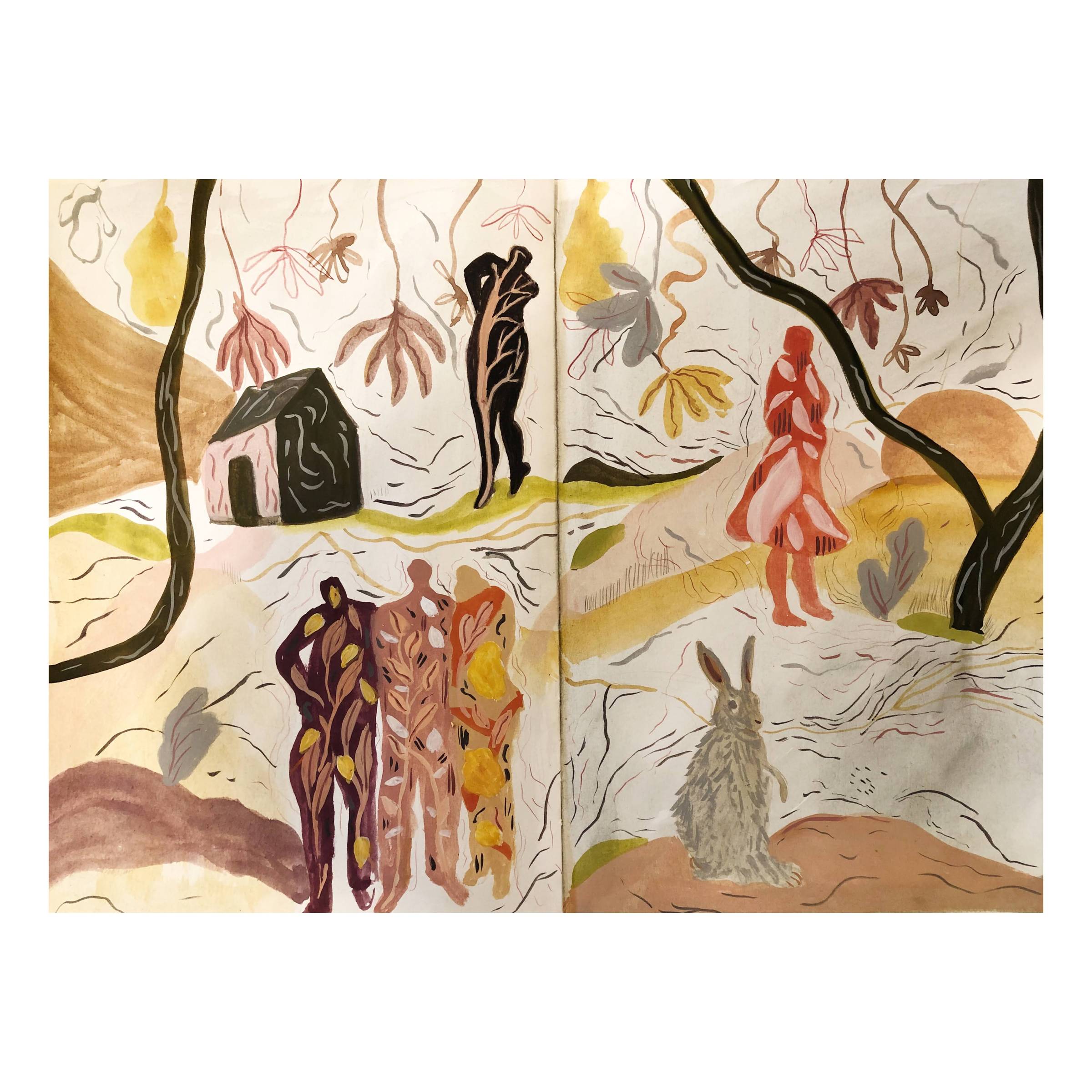 I had a phase of oil pastels and I thought that was my medium, then I went back to watercolour and thought, no this is it, this is where I thrive.
Lately I'm heavily into gouache. I ping-pong between acrylic and traditional gouache it's so versatile. It lets me paint almost the same way I do on the iPad.
Most importantly, this was the year that I learned to USE my work. To go back and reinvent and reuse what I made, creating at last something more cohesive. On Patreon I shared one of my favourite tools: a self-reference deck.
So overall, I feel I have made good progress on my terms.
Do you do a review of your art practice? What did you learn? What changed? What progress (in your terms) did you make? I'd love to know!
What's next for Flowarte
Flowarte began in 2017 as an attempt to build a small business selling print-on-demand stuff. I sold leggings for people who worked in the circus, practiced acro-yoga and hula-hoop. These practices are called the Flowarts.
After a year in business I realized that I had stepped into the leisurewear industry which was the furthest of my intentions. I quickly backtracked and focused on my art practice, but the name endured because I like the word Flow so much.
However, I've realized that it's a name that has run its course. I was certain of it when, recently, during a zoom call nobody could pronounce it.
In June I created my artist website, so now I have two sites that I have to manage (and pay) and it's not very practical.
The number of domain names I've bought is a bit shameful. I create websites for everything instead of embracing the different facets of my art practice.
So in the coming weeks Flowarte will simply be me: Luisa Fernanda Niño.
Nitty Gritty Stuff
I still have to figure out if I will remain on WordPress or move to Squarespace. It's always been my dilemma. WordPress can extend in all sorts of directions without having to pay more for your hosting, but one tiny upgrade can wreck havoc and cause you hours of tinkering... while Squarespace is limited and more expensive but no major outages.
This newsletter, content and residency will remain the same, although I might need to change the From Address in this newsletter.
All these technicalities will resolve in time. I'm in no rush.
It feels good to make a decision.
If you feel the urge to create a separate entity for a different facet of yourself, think it over because we are not divided, unless it is a distinct difference like a job vs your creative work. I've done it so many times and I always abandon one. (I did pet portraits and built an entire website for that only to abandon it a few months later).
Especially creating separate IG accounts, I do not recommend it. It's just double the distraction.
Elsewhere:
A few goodies
I struggled with sketching my surroundings for years, until this Domestika class. It simplified the composition and helped me to fit a busy scene into a single spread. I practiced first on Procreate and I'm ready to do one in gouache. Truly one of the best classes. (Spanish with English subtitles).
​(Use coupon LUISA_FLUXGUSTO-HOLIDAYS for 10% off)
​
This is how my space is looking:
​
​
Thank you to my Patrons, your support means the world. 🙏🏽 Do join me!
All content is a single tier. I discuss my creative process, give you a peek into new work that I'm not sharing elsewhere and sharing the different ways I draw faces, figures, plants, etc. It's a very spontaneous place!
Phew, this is a long one.
Thank you so much for reading.
As always, feel free to reply to this email with any questions or just to chat.
​
P.S. Happy Holidays, talk to you next year!
There are affiliate links in this email, I have purchased each of the items I recommend. I never link to Amazon.