-Hi Reader,
​
I'm writing to you from a tiny village in the far east of Quebec. We're having a stormy day and I'm sitting in front of the window looking at the waves. The wind is strong and the windows are dripping. Boris can't seem to remain awake. He's full on "cottage-life".
We hadn't taken a vacation in almost two years. We took a few weekends off but nothing like a true restful moment.
It's strange how when you travel, even if it's a road trip, we want to make changes. The new points of view, the new routine, the space for thinking and writing are conducive to wanting change.
​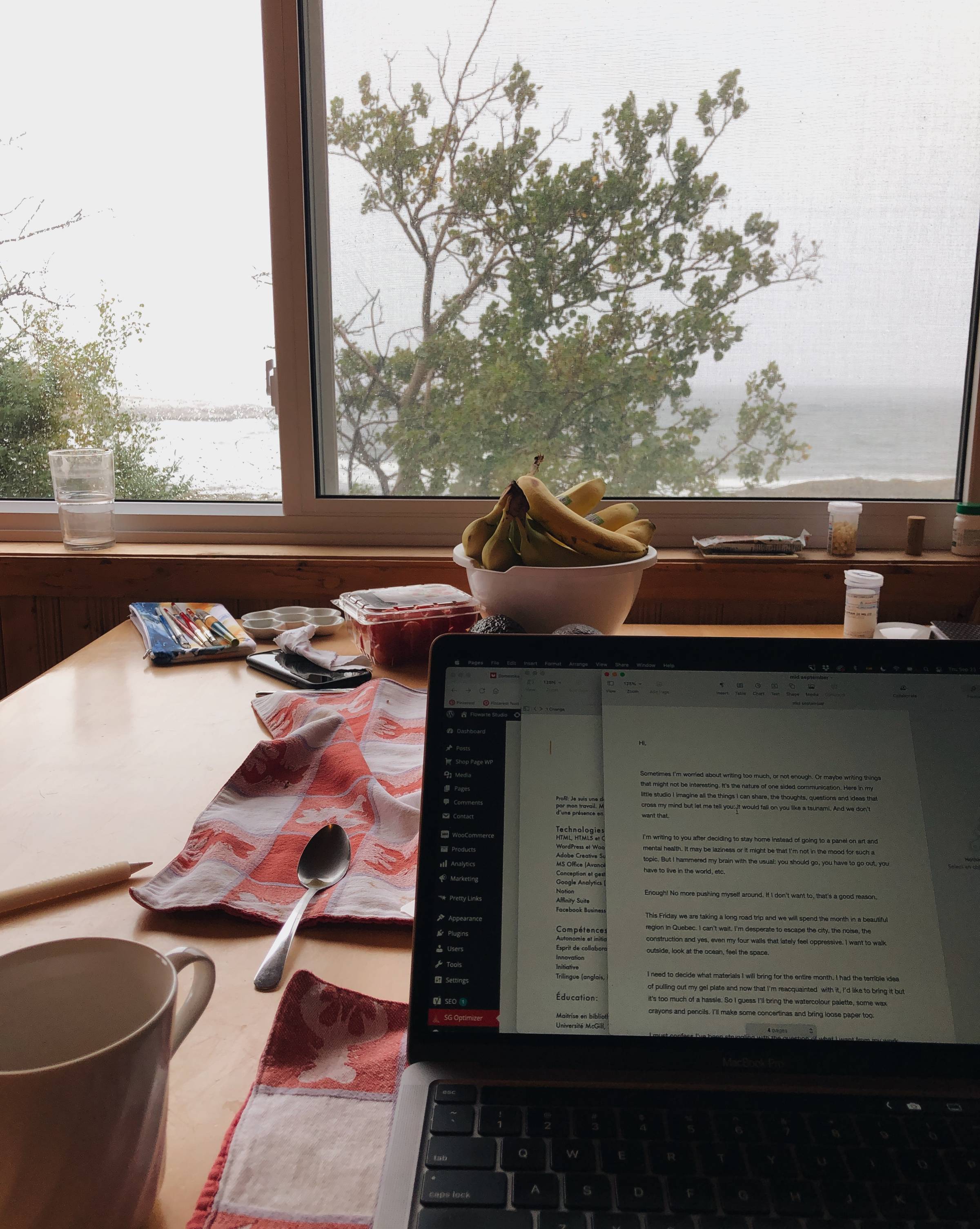 Inspired by a few podcasts and mostly inspired by books I've read recently about work I think I'd like to give Flowarte a new direction.
Although I don't know yet how.
I took a peek at my website and there is so much in there, I went back to the beginning of my blog. 😱
That post was written seven years ago!!!
Even then, I was worried about navigating the online business world, privacy, monetization, etc. That didn't stop me from trying though and if you go through random posts you might see those different attempts.
I confess I still struggle with those issues and I currently have no answers. A few months ago I was once again considering selling original work or creating prints but my previous experiences came rushing back: No. Too much work for very little return. Or at least if I do this I'll do it slowly and with the sole purpose to give people a chance to get a small or medium print if they liked a drawing.
But then what? Why am I building a body of work, why do I draw every day (or nearly), why do I build my process and deconstruct it and re-build it? Is it just to pass the time? What do I do with all the work produced?
I know I can't NOT do it. Maybe you're the same. You must do your creative work or you soul shrivels.
I have a hard time thinking that it's just a hobby because it's more than that, but after five years of testing business models and undertaking ambitious projects I realized I'm not of the entrepreneurial kind.
To create FOR a client or audience is extremely hard for me. Is it absolutely necessary to "sell" to be legitimate?
The horizon is unclear. Do I take a full-time job to pay my bills and leave my creative work for my free time? Or do I continue with a part-time low paying job and push on?
​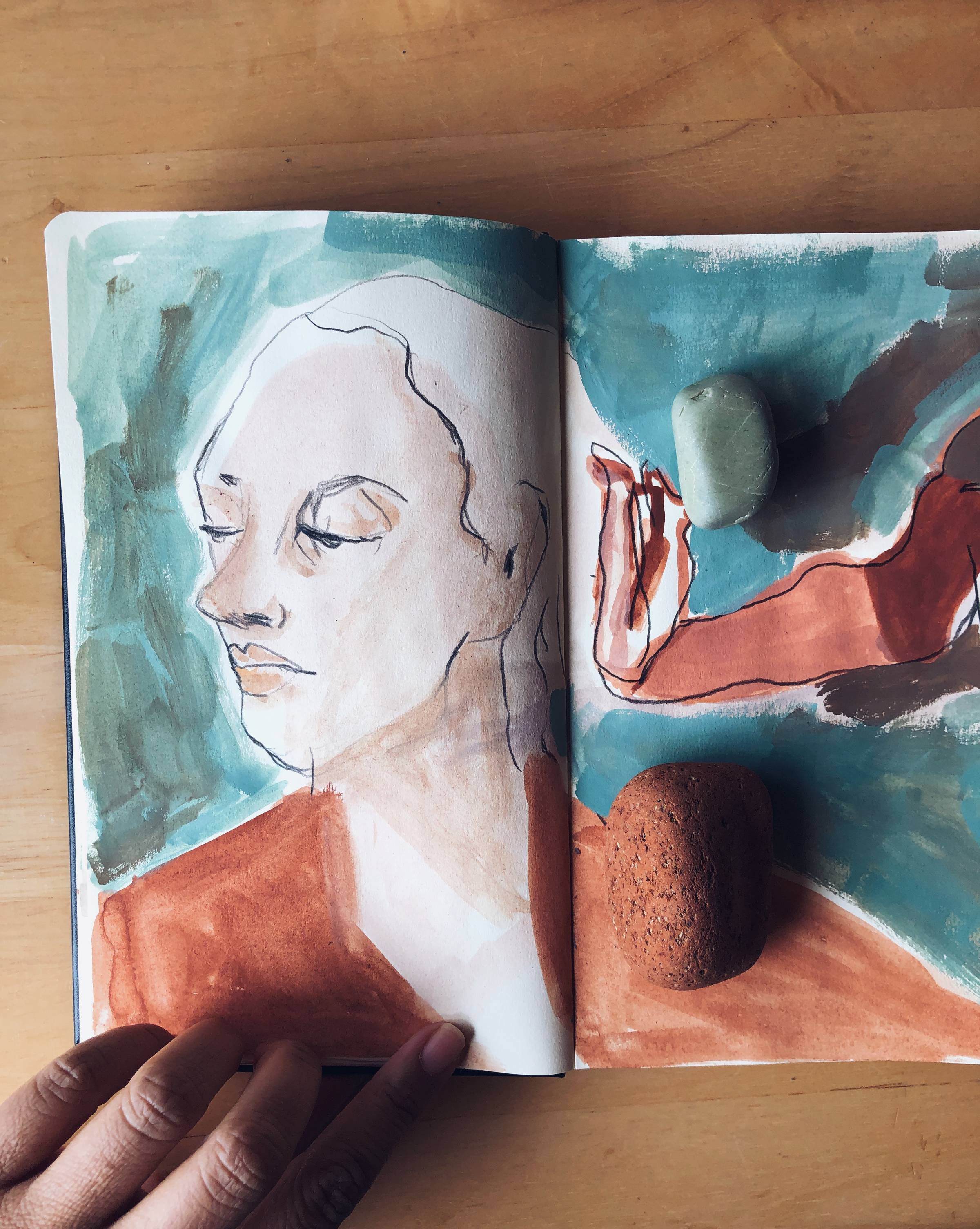 I hope this month gives me some clarity. I did receive a couple of signs from the universe and applications are being prepared. But none of it is in my control. So after the deadlines there is only waiting and if nothing happens then I'm still in the state of "not knowing"
Would you talk to me?
Are there any questions that are burning inside but you don't dare ask them out loud or you have no one to discuss them with? Maybe I can do a blog post or public video on Patreon for you. Let's call this an Ask me anything!
You can ask about business models (if you're curious about testing something - chances are I have tried it too)

Art practice development

Techniques

The Art Life

Anything really.. just reply and I'll gather the questions to publish a post.
In other things
On September 30 I'm retiring the Flowarte Guide for Creative Independence. My ebook about finding inspiration and seeking your subject matter. It's on sale!
Have you ever fallen down into the rabbit hole of Slow Living and the tropes that come with it? I did,and it was basically th e 4-hour work week mashed with cottage-core. The Guardian published a very interesting article about how too much free time causes lower sense of wellbeing. I felt it during lockdown the free time accumulated and for the first time in my life, I didn't know what to do with it. It was a surefire way to over-consume content.
The Instaretreat
A couple of years ago I gifted myself a course I'd been coveting for years: The Instaretreat. It was the perfect time for me because I had just made peace with closing my print on demand leggings shop and I wanted to take more creative photos for IG. I wasn't pursuing numbers, but a creative expression.
​
This course turned out to be so much more. There is no promise of guaranteed massive growth but a promise of learning the ins and outs of building you account the way you like it and once you do, people find you.
My favorite thing about The Instaretreat was giving my account an editorial direction without worrying about rumours (because Sara either dispels or advices about them: algorithm changes, feature changes, etc.) I use my grid and stories, period. I don't bother with reels, or IGTV that much. I found my editorial line through the massive workbook included in the course and the live calls.
If you scroll down on my account you might even notice when the shift happened. Anyway, it's starting again on October 4th. It's not cheap but rarely good things are. You have access forever and you can join new cohorts each time it runs. Unfortunately it only has a small window of enrollment, but it runs four times a year so if you don't join now, you can join in January. It's not a now or never kinda thing.
I feel a little funny recommending this course because of its cost, but every time I join a new cohort I'm so glad I have access. It alleviates a lot of anxiety about IG. It brings me back to my lane.
If you want to take the course but you have questions about it, shoot them my way and I'll try my best to answer them.
And most importantly: if you found your stride with IG keep doing what you're doing!
Thank you for reading. You are important to me as a reader and fellow artist.
I'm happy to be able to share and ponder "out loud". Thank you for allowing me into your inbox
​
There are referral and affiliate links that help me support my art practice. I never link to Amazon or things I haven't invested in AND found useful.
Visit flowarte.com​