Hello Reader,
I recently published my yearly selfie on IG. It was an excuse to commit. Usually, when you show your face and say you'll do something, you tend to do it, or you'll be embarrassed.
I've been feeling scattered and aimless. That was January for many people.
Around the world, we are sharing more than we think, and of course, we are aware of it because we can't say it enough.
If many mammals hibernate in the winter, why can't we? Our bodies are screaming for it, but instead, we use the last week of December and the first week of January like a ski jumping runway only to land in our faces (thanks, omicron).
Suppose you could see my Notion project board; all the projects on Up Next are now On Hold or have the sad little label "abandoned."
Reasons? Ah, many, or maybe they are excuses. Not sure.
One reason is that I felt overwhelmed after years of making art and trying out so many different techniques and mediums. I started to see my materials dry out and spoil because I didn't use them.
​
So I think I will give myself monthly challenges to finish up most of the paints I have bought before they dry up completely.
The first challenge will be a month of watercolour.
I will paint watercolour with abandon; I will give myself a few parameters like paper size and subject matter to not simply fill the paper with whatever. That's not the point.
​
​
I will share this on Patreon. In addition, I'll film some of my exercises and chat about the process; although these are not tutorials, it's just my art practice in sort-of-real-time.
So it will be a spontaneous month. I'm happy because I recently got a better tripod. I should now be able to film without slipping out of frame 🤦🏽‍♀️
So do join me if you want to use up an art material or supply before it goes bad or you have just been meaning to!
This month will fun from February 8 - March 8
I keep my Patreon very simple, one-tier, access to everything.
I would love some accountability and community in this little challenge! We can exchange tips and tricks.
​
In the following months, the challenges will be Air Dry clay, wax pastels, oil pastels (although these I use regularly), acrylic paints, even fineliners. I have many micron pens from my early days.
What supply would you choose to exhaust first?
Elsewhere:
This week I took Expressive Figure Drawing on Domestika. I loved it. Dani Torrent is such a good teacher. Most teachers from Spain are good at explaining more than the technique. Classes by Ana Santos, Maru Godas, Adolfo Serra and Carmen García Huerta have been so valuable in my learning.
Teachers from Latin America are more into idea generation than technique. This variety is why I love Domestika so much.
(Get a 10% additional discount using LUISA_FLUXGUSTO-10 for any class you want).
​
I also have relied a lot on my Public Library to study Art History, because, without it, you're just looking at Instagram and Pinterest all day long and doing the same thing repeatedly.
Lately, I'm into BookTube, and I have created a Books database in Notion. If you've reached the stage where you've had at least two streaming services, plus your library's Kanopy, and you still can't find something to watch, it's time to go back to books. The problem was that I couldn't focus. I used to read A LOT, but I couldn't read more than a few paragraphs before sleeping as my attention became fragmented.
Watching Booktubers has opened my appetite, and I finished three books already (far from the five or six a month they read), but I don't care about how many; I just want to read those that have been on my TBR pile. One of my favourites is a new channel by Ben Green, not just because of books but because of their taste in fashion. Plus, they dance for The Batsheva Dance Company!
​
---
I have something coming up:
​
​
A new series of Workshops that will begin in March. The first workshop will be: Reflecting about your work. ​
I'm very excited about these workshops. Classes about technique and process abound but how to do you evolve and build the meaning of it? Let's explore!
​
​
​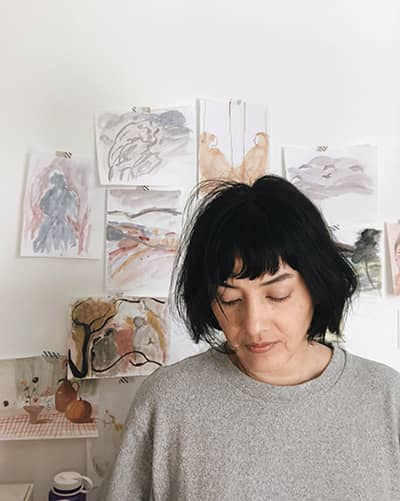 Thanks for reading. If you have questions about the workshop or Patreon, reply to this email!
Best,
Luisa
​
There are affiliate links to classes, supplies and a few charming finds.
These support my art practice